Welcome
JC'S Interiors is your one stop source for all your interior design and home decor needs, specializing in custom window shades, shutters, draperies, curtains, vertical blinds, horizontal blinds, and more great window fashions.
We provide in-home free estimates and bring a wide variety of samples to choose from. We also provide professional installation on all the products.
Please feel free to call us at 808-235-5525 or 808-672-0506.
Featured Product
Melhanna Roller Shades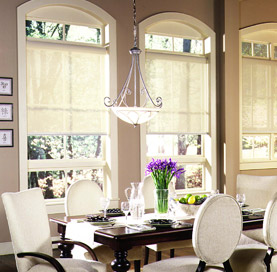 The roller shade is still one of the most popular window covering products in today's market. Through the years the roller shade has changed much in style. The roller shade of years past mostly came in one color - white, but over time would yellow with age. Sometimes the shade would annoyingly escape the grip and slap itself round and round the tube at the top.
The roller shade has come along in featuring chain-driven clutches for shade operation. This type of operation allows for wider and longer shade sizes to be made with heavier fabrics than those in the past. And speaking of fabrics, the palette today brings high fashion to the roller shade.