Welcome
JC'S Interiors is your one stop source for all your interior design and home decor needs, specializing in custom window shades, shutters, draperies, curtains, vertical blinds, horizontal blinds, and more great window fashions.
We provide in-home free estimates and bring a wide variety of samples to choose from. We also provide professional installation on all the products.
Please feel free to call us at 808-235-5525 or 808-672-0506.
Featured Product
SunQuest LX500 Wood Shutters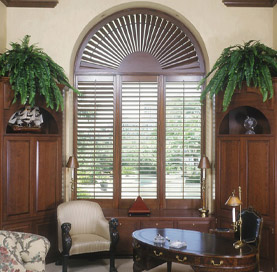 SunQuest LX500 wood shutters are handcrafted using only the finest selection of hardwood maple, red oak, cherry, white oak, walnut, alder and mahogany. All woods are premium furniture quality and offer strength and durability. The LX500 is available in a wide assortment of custom specialty shapes and can be matched to almost any color for a custom designer look.