Welcome
JC'S Interiors is your one stop source for all your interior design and home decor needs, specializing in custom window shades, shutters, draperies, curtains, vertical blinds, horizontal blinds, and more great window fashions.
We provide in-home free estimates and bring a wide variety of samples to choose from. We also provide professional installation on all the products.
Please feel free to call us at 808-235-5525 or 808-672-0506.
Featured Product
Melhanna Roman Shades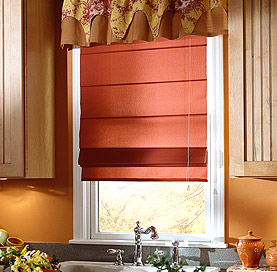 Ignite your creative fire with beautiful Melhanna Roman Shade fabrics available in two styles -- a classic flat shade for a clean, relaxed look, or our teardrop variety for a bolder style with added dimension. Making any room more distinctive Melhanna Roman shades combine the charm and elegance of soft drapery fabric with the convenience and functionality of a shade at an affordable price. Melhanna Roman Shades are mounted beneath the premier headrail lift system in the industry. The unique construction method incorporates a no-sew bar system that runs down the back of the shade, providing a clean, uncluttered appearance while maintaining privacy and light control. By design, the fabric flows over the face of the headrail eliminating the need for a separate valance and enhancing the uniform appearance of the shade.